I went to a political rally for the first time in my 50 years.  I had resolved at my 45th birthday to become more than an armchair political activist.  I joined my riding association for the New Democratic Party (NDP) of Ontario and Canada.  I did not know what I was getting into or what I could do to help but I bravely joined a small committed group of social democrats. Since that time I have taken meeting minutes, folded and prepared flyers, attended various meetings, and helped create fundraisers for our local Candidate Michelle Bilek.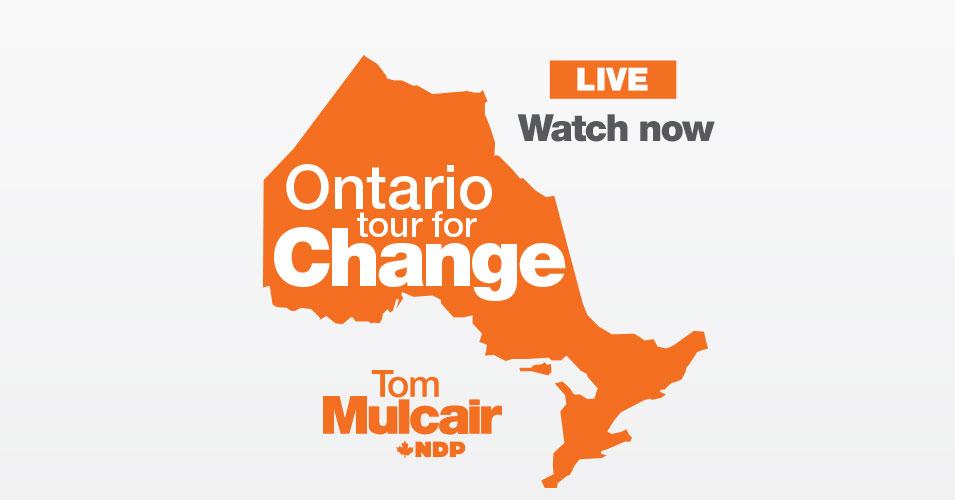 It was fun except I have to say some of the men in politics can be egomaniacs who like to hear themselves talk—A LOT. Also there is some sexism going on where the men do the talking and decision making while women do the minutes, food, meeting supplies etc.  I tried to fight against this sexist model…its hard.  There are those men though that have joined 21st century thinking and see us more than the good quiet little workers of the political party. However everyone in our little band of hopeful left leaning progressives contributed political saavy, feet to the pavement, cooking skills, event planning skills to get our NDP Candidate 10 % and increasingly more voter percentage over 5 years of federal and provincial elections in a highly conservative stronghold in Mississauga.We also contribute money as well as time.  I have a new respect for the teams of people who work to get their political representatives elected.  It is hard work and most or all is voluntary.  It is hard to believe in that active 5 years I had never attended a federal political rally!
On July 25th, at the Shingar Banquet Hall in my least favourite city in Peel Region, Brampton, I attended the Peel Rally For Change. Well what does one bring to a political rally?  I brought my chequebook…I knew that was a given because usually the NDP is desperate for funds. My cell phone had died so no photo ops possible.  I didn't know if I was allowed to bring a camera, so I decided to travel light and not bring one (my first novice mistake). Due to my discomfort in crowds, I left in just the right time to get there and park (mistake number two). I did bring a pen and forgot to pack my writer's notebook (I realized mistake number 3 later). Now understand that our party leader and current Leader of the Opposition of the Government of Canada was coming to speak. Somehow I didn't quite believe it.  A great political leader was coming to speak to the lumping proletariat in Brampton?!!! I think it is a first.  It's true I was completely unprepared for what the NDP Rally For Change was all about.
Next, I had to consider dress.  Business casual or a T-shirt slogan and slacks combo?  Summer  turquoise purse…will I be searched because the possible next Prime Minister will be there? So I decided on navy blue sleeveless shirt, denim capris and a lovely orange scarf (the colour of the NDP) a friend had brought me from Bangladesh.   I wore orthotic sandals, a little mascara and swipe of summer wine lipstick and off I went.
When I arrived on time, it was too easy to find parking and too easy to find a comfortable seat.  I thought the place would be so crowded.  I wasn't sure which way the speakers were facing as there was three huge raised stages and lots of tall NDP supporters. It was hard to see for this shorty.  I chose my favourite claustrophobic spot  in the banquet hall —an aisle seat near the exit and near the washrooms!
NDP candidates volunteers walked through the crowd distributing Thomas Mulcair NDP signs and Ready For Change signs.  People met and networked.  After waiting for an hour checking out the delightful multicultural crowd of men, women, young and old , the rally began with some Bhangra Drumming which got the excitement going and blood pumping!  I realized my mistake of seat. All I was going to see was the backs and tops of heads and some big hats and turbans.
I realized the huge screen TVs were not to give me a great view of all the speakers but were teleprompters to keep things on message! The speeches and energy were great.  We were encouraged to post pictures and messages on Facebook and Twitter.  Thomas Mulcair was an impressive speaker inspiring the crowd to cheer NDP! and TM4PM in rapid loud chanting fashion.  When he mentioned the dismal record of the our 11 year Harper Conservative Government the crowd yelled out boo and shame.  It was so much fun! I could see the back of Thomas Mulcair`s head and his left profile when he panned to the crowd.  At the end he graciously shook hands and took photos with his supporters and candidates.   I was glad I came to hear Thomas Mulcair speak. In less than 85 days from now, I might just be bragging  that I sat 10 meters from our New Canadian Prime Minister.
In the end, I learned to bring a camera, digital social media device and a notebook.  Get there early so you can get a seat near the speakers podium…the TVs are teleprompters not for getting a better view of the speakers! Also avoid sitting behind tall people. The most important thing I learned about political rallies is that you go there to show support for your candidates of choice.  So for my first political rally I think I did just fine.
TM4PM! NDP!!!